On 11th December 2018, UPD hosted a celebration and next steps event, inviting many of our partners and stakeholders to join us as we reflected on the work we've done so far and looked ahead to what's next. In this post, we give a summary of what happened on the day.  
The event opened with some presentations about what UPD's done so far, which you can read more about in Nicola's reflection blog; some key findings from our recent evaluation; and about what UPD's forward thinking looks like, which Natalie writes about here. 
We also included activities for attendees to share their insights, give us some feedback, and discuss their projects with one another.   
Informing people and building trust 
We invited an expert panel to debate: What's the relationship between informing people and building trust? We chose this topic to explore what's needed, beyond providing informational resources, to give people confidence about the way patient data is used. 
Our panellists and the audience argued that trust in uses of data requires authenticity, clarity, and empathy. To enable this, we need to keep our eyes on the near future and tackle those concerns we have now, not the hypothetical ones of imagined technologies. We need to make sure uses of data put the patient first, always. And we need more narratives of trust, care, and love, to cut through the negative stories.  
The panel was facilitated by Simon Burall from Involve and included Fiona Lugg-Widger, a researcher at the Centre for Trials Research; Rachel Coldicutt, CEO of doteveryone; John Marsh, a patient representative; and Dr Arjun Dhillon, a GP and Deputy Caldicott Guardian for NHS Digital. We are immensely grateful for their contributions.  
Excitement and concerns for the next five years 
During the coffee breaks, we asked everyone to respond to two questions: what were they most excited about for health data within the next five years, and what were they most concerned about? The answers were presented into wordclouds during the event.  
Top exciting things included: greater interoperability, the ability to empower patients, and patients having more voice. The main concerns were: that data wouldn't get used, there'd be poor communication, and that scandals, fear, and fake news would erode trust.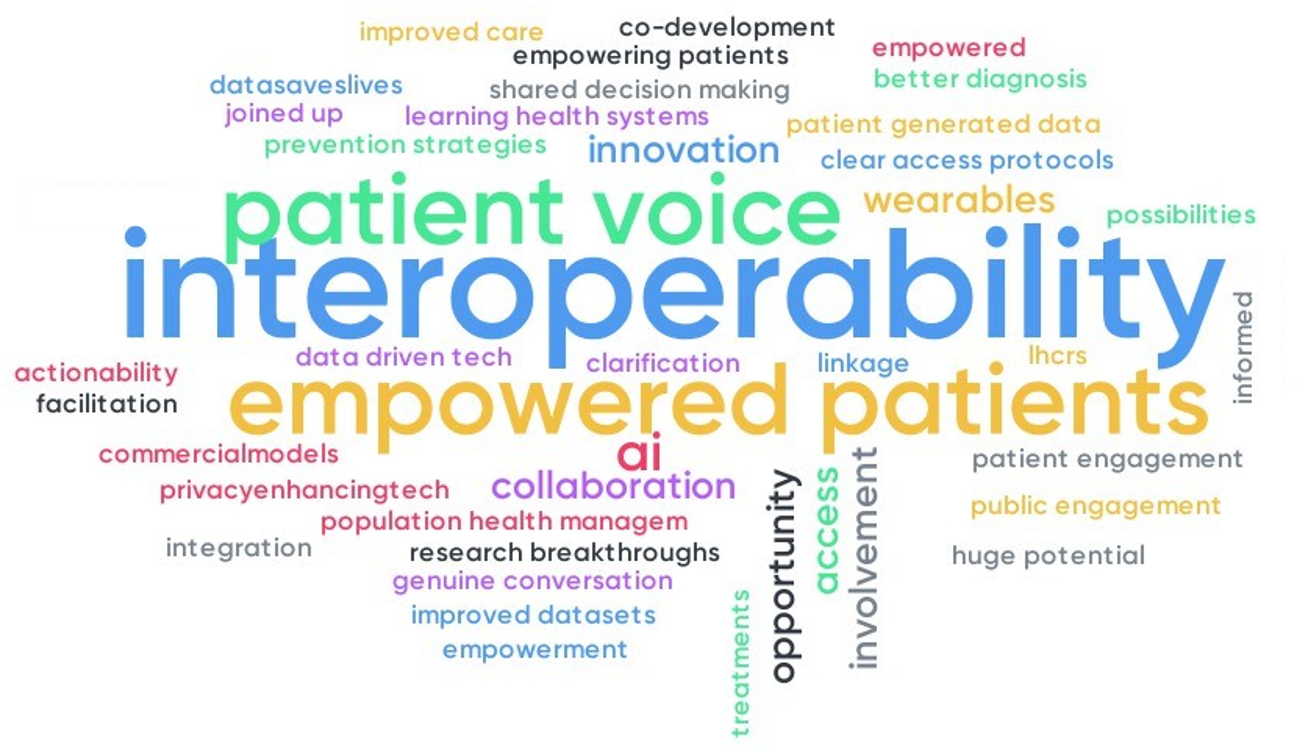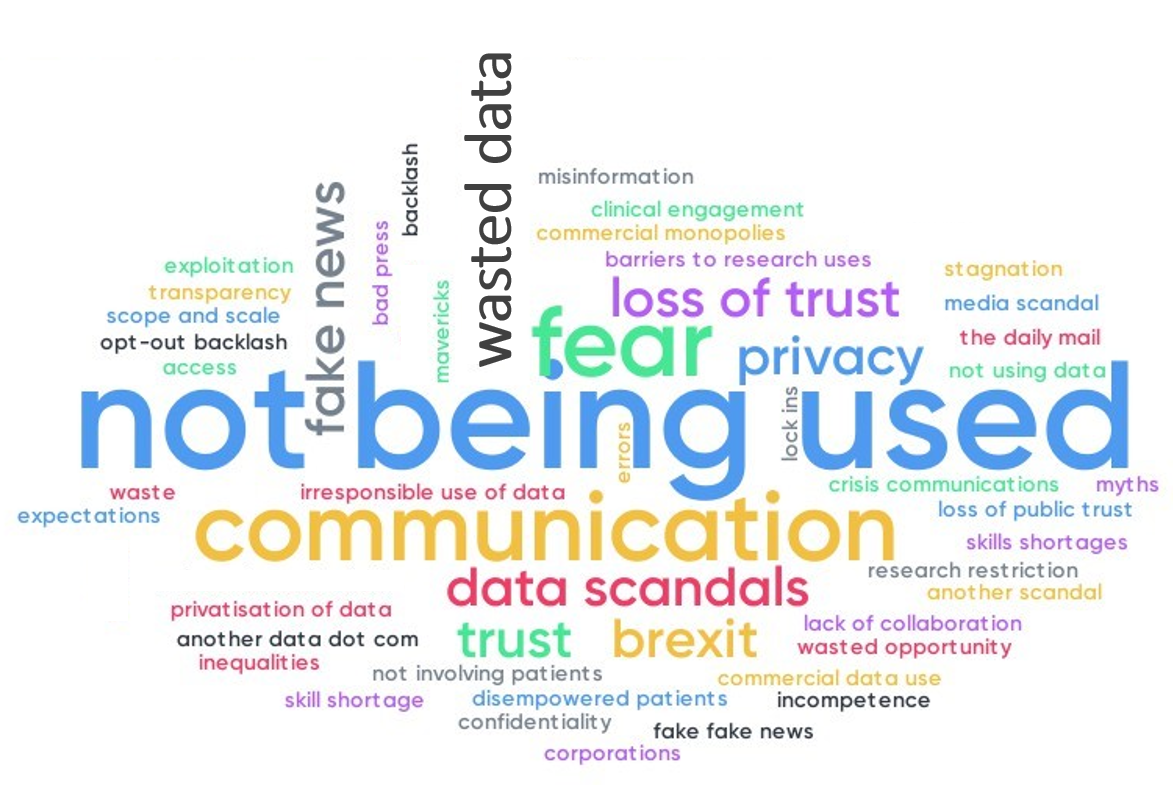 Projects and challenges
On a post-it wall, we asked attendees what work they have underway on health data, what challenges they face, and what support they need. 
We found that people are working on a range of projects, doing things like:
Supporting patients to better understand how data about them is used.
Finding out more about what people think and feel about patient data use.
Developing frameworks, plans, and strategies on data ethics, digital skills, and communication.
Some of the big challenges faced are:
Knowing what other projects are happening.
Having available resources to carry out projects.
Promoting the positive stories, especially when negative stories and scandals grab headlines.
To support one another in this space, people said we should:
Better join-up our work across this landscape.

Find ways to meaningfully engage with patients, publics, and healthcare professionals on data.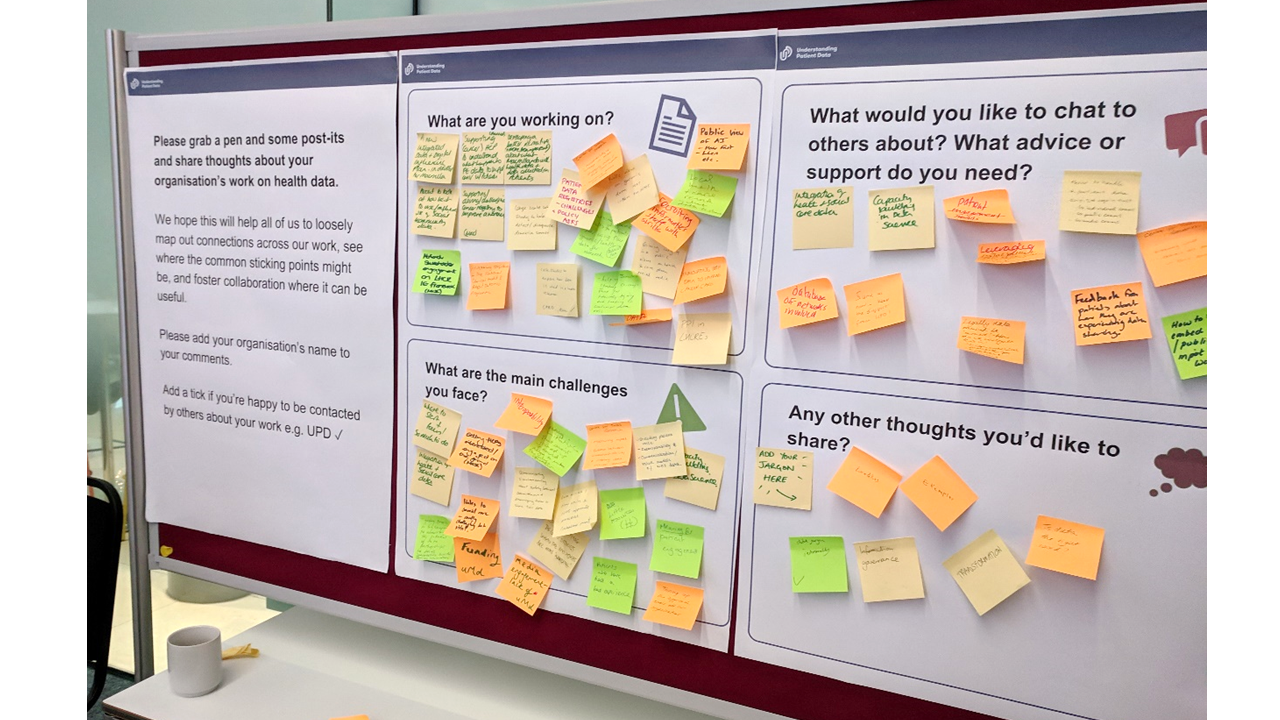 New resources
We also showed a draft of a new UPD resource: a toolkit, which aims to summarise some of our current materials in one document. We invited people to provide feedback on it. 
There was widespread agreement that the toolkit would be useful, particularly for those who are looking for a "starting point" for UPD and our resources. Opinions varied on the ideal level of detail and how best to present materials. We will continue to develop this resource in light of this feedback - watch this space.    
Jargon busting
We also asked everyone to think about what challenging terms they would do away with. Here's the jargon people said they'd bust:
Top down (it implies patients/public are at the bottom)
Transformation
Data (it has multiple meanings, and is often used in unclear ways)
Information Governance
Interoperability
Localities
Exemplar.
Some of these terms are unsurprising; much of this jargon is challenging for experts, professionals, and patients alike. Some, though, are more surprising: 'interoperability' was the most popular response to our wordcloud on what people are excited about.
What does all this tell us?
All these insights were exciting to see. They remind us how crucial it is to have these conversations and reflect with others working in this field. Sometimes, just getting all together in a room is incredibly valuable. 
UPD will use these contributions to guide what we do next, and we will continue to help join up work across the landscape. If you have anything you'd like to share or collaborate with others on, the UPD team are always happy to offer support.