By Grace Annan-Callcott, Communications Officer.
At Understanding Patient Data, we think it's important for people to be able to find out how data from their health records is used. But data can be dry, abstract and hard to understand. That's particularly relevant in the context of health, when it's unlikely you or your doctor want to have an in-depth conversation about data – especially if you only have 10 minutes for a consultation. 
So we're working with design studio COMUZI, to identify the moments in people's healthcare journeys where it would be meaningful for them to find out more about how health data is used.   
Why are we doing this work? 
People are often not at all aware that data from their health records is used for research, planning and other purposes beyond their immediate care. And we know from our previous research that it's hard to find the right moment to inform people about how data is used. As one participant told us: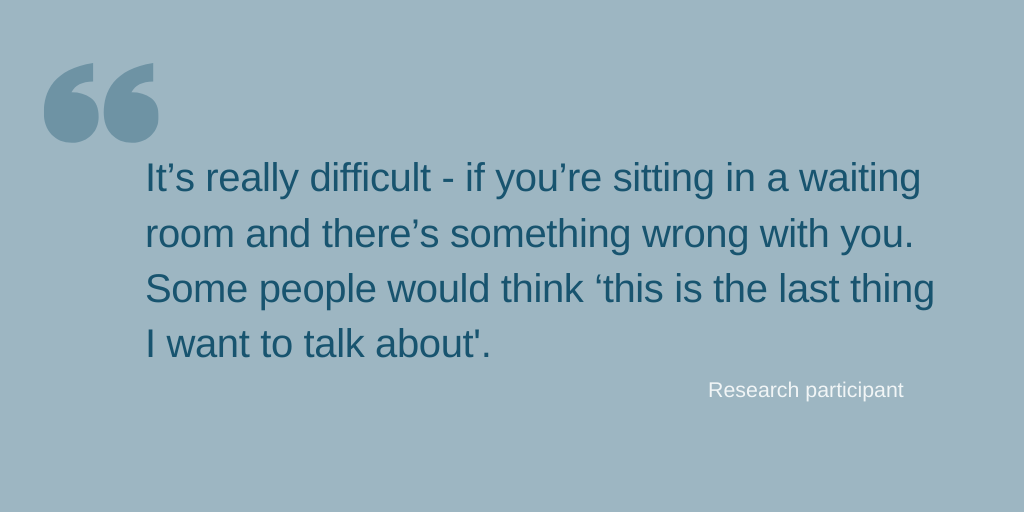 So how can people be informed about how health data is used, at a time and in a way that works for them? This could be through their interactions with health services or managing their own health. We want to find the right moments to develop people's understanding, without leading with the dry and difficult concept of 'data'. To put it another way: how can we talk about data without talking about data? 
What's the plan? 
We're running a 7-week design research project with COMUZI, a design studio that specialises in radical approaches to thinking about and prototyping services. They're coming fresh from a related project with Southwark Council, looking at how digital products and services could be used to help improve health and wellbeing for residents.    
Our work with COMUZI began with interviews with patients and health professionals. COMUZI have been speaking with people who have complex health conditions to understand their healthcare journeys. How do people get the care they need? What tools and resources do they use to manage their health? What questions do they ask when they're offered a new treatment, and where do they go to find out more? We want to get a fuller picture of how people manage their health and wellbeing alongside their appointments. 
We've also spoken to a range of health care professionals to find out what sources of information both they and their patients draw on, and what would be helpful to them. And we've touched on how the COVID-19 pandemic has changed people's awareness of the important role health data plays in delivering health services.  
COMUZI have now completed the research and are working on drawing out insights to identify moments that we could prototype. One interesting moment we've identified, is that when people are offered a new medication, they'll often do research to understand side-effects, and 'risk'. For example, one participant said: 
Lots of research underpins how medications are used, monitored and prescribed. Could this be a moment to explain that lots of the information people read about medication comes from research using data about other people? 
Reflections & next steps  
I've personally learned loads from the project already, and really enjoyed listening in to the research sessions. We talk about 'patients' and 'data' a lot, but it's always good to be reminded that we're actually talking about people, and information that's really important to them.   
Once COMUZI have synthesised the research and we've identified a list of possible moments to prototype, we'll be running a (remote) workshop with some of the research participants to think about what those prototypes should look like.  
We'll be sharing more here as the work develops, and COMUZI are also publishing weeknotes about their experiences of working on this project.